PolDeck MD – roof sandwich panel PU
High resistance to chemical and atmospheric agents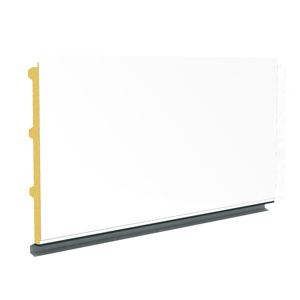 PoldDeck is a roof sandwich panel with a core of rigid PU foam, the inner lining of laminate, fixed to the supporting structure by a fastener through the entire thickness of the panel.
External cladding is metal, as in the standard TD roof panels. PolDeck MD is a panel to be used mainly in livestock buildings, where there is great concentration of ammonia or the need for warming the existing roof covering.
PolDeck MD panel is suitable for use in horticulture, storage rooms, warehouses, barns, poultry houses, in buildings with pitched roof, at least 4 ° (7%) for continuous panels and 6 ° (10%) for panels joined alongside, with skylights, etc. Laminate / jut cladding can be cleaned with Karcher.
Advantages of roof sandwich panels PolDeck MD:
Low water absorption – less than 1%
Resistant to chemicals and biological agents:

Acids / very good
Alcohol / very good
Base / good
Solvents / good
Ammonia / very good
Molds / very good

The surface of the laminate can be cleaned with water high pressure cleaners
Operating temperature -40°C do 110°C
Fire resistance: no dripping M class / French
Sandwich panel PolDeck MD - applications
Piggery
Cowshed
Chickencoop
Goose house
Vegetables and fruits warehouse
Other buildings with the content of ammonia in the air
Main data PolDeck MD
Modular width [mm]
1060

Fire resistance

M class / French
Core
Europan PU Roof System Core — rigid PU foam with declared density 38

±

3 kg/m

³

 and thermal conductivity coefficient λD = 0,022 W/(m∙K) at +10°C including aging, according to EN 14509:2013-12
Technical data PolDeck MD
| Available panel thickness [mm] | Thermal conductivity value λD [W/(m∙K )] | Thermal transmittance coefficient Ud,S [W/(m²∙K)] | Weight 1 m² [kg] | Number of panels in a bundle [pcs.] |
| --- | --- | --- | --- | --- |
| 40/75 | 0,028 | 0,70 | 6,47 | 18 |
| 60/95 | 0,028 | 0,47 | 7,23 | 14 |
| 80/115 | 0,026 | 0,33 | 7,98 | 10 |
| 100/135 | 0,026 | 0,26 | 8,74 | 8 |
| 120/155 | 0,025 | 0,21 | 9,50 | 8 |
Profiling PolDeck MD
External profiling
Internal profiling
Realizations with PolDeck MD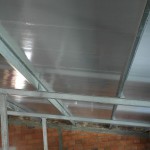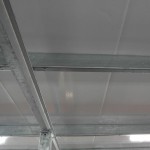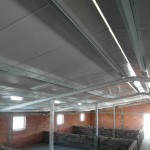 Zobacz wszystkie realizacje