Poltherma SOFT – insulating panels
Saving by insulating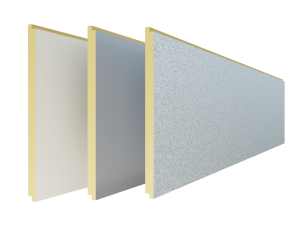 PolTherma SOFT panels are insulating panels made of rigid foam PU. The use of PolTherma SOFT panels offers a number of tangible benefits both during installation and during operation of the building.
Available cladding:
LAMINATE/COMPOSITE— laminate on one side/ multilayer cladding: paper, PE film, aluminum foil on the other side
COMPOSITE — both sides multilayer cladding: paper, PE film, aluminum foil
Key features of insulating panels PolTherma SOFT:
Very good thermal insulation – the best of the materials currently used in the construction industry

the lowest value of thermal conductivity d = 0.022 [W/m2 * K] *
almost twice lower value of the insulation layer in relation to other known insulating materials, with the same coefficient U

High thermal stability during the lifetime due to the closed cell structure
Extremely low hygroscopicity (lower than 3%) for core
High chemical resistance of the core to organic solvents
Low weight – minimal load on the structure
Resistance to fungi and microorganisms
No core degradation in lifetime
Simple and safe installation
Dimensional stability
Conformity with UE standards CE wg EN 13165:2001
* Declared value at +10 ° C
Main advantages of PolTherma SOFT panels:
Using the POlTHERMA SOFT as an effective thermal insulation of the building allows the rapid increase temperature in heated rooms. At the same time prevents cooling down and helps to keep the constant temperature. POLTHERMA SOFT is an excellent thermal insulation in winter and summer.
Thanks to the PU core, PolTherma Soft is very resistant for the mechanical deformations and compressions. These features are necessary to make the efficient thermoinsulation of flat roof and prevents problems with maintenance in the future.
The assembly of insulation boards PolTherma Soft is very easy, thanks to their low weight and simple montage, without dusting. The overlapped joint is an additional advantage. Boards are available in packages or on order.
An important parameter determining the thermal insulation of material is its low water absorption. The POLTHERMA SOFT is made of the best insulation core of PU. Thanks to its closed cells characterized by a very high resistance to penetration of moisture and air infiltration
Insulating panels PolTherma SOFT - applications
insulation of extarnal walls- e. g. three-layer wall, one-layer wall.
insulation of floors and terraces- e.g. single-family housing, industrial development
insulation of roofs and ceiling- walle.g. single-family housing, agri construction
insulation of pitched roofs – walle.g. single-family housing, agri construction
insulation of flat roofs- e.g. industrial development, large-area
insulation of buildings with high concentration of ammonia – piggery, cowshed, chickencoop
other insulation- e.g. industrial strings, domestic use
Main data PolTherma SOFT
Modular width [mm]
1050, 1220
Core
Europan PU Insulation System Core — rigid PU foam with declared density 38

±

3 kg/m

³

 and thermal conductivity coefficient λD = 0,022 W/(m∙K) at +10°C including aging, according to EN 14509:2013-12
Option
LAMINATE/COMPOSITE — laminate on one side/ multilayer cladding: paper, PE film, aluminum foil on the other side
COMPOSITE — both sides multilayer cladding: paper, PE film, aluminum foil
Technical data PolTherma SOFT
COMPOSITE/ALU
Available panel thickness [mm]
Thermal resistance value R [(m²∙K)/W]
Thermal transmittance coefficient UC [W/(m²∙K)]
Number of panels in a bundle [pcs.]
40
1,81
0,55
28
60
2,70
0,37
18
80
3,57
0,28
14
100
4,54
0,22
11
125
5,55
0,18
9
140
6,25
0,16
8
175
7,69
0,13
6
LAMINATE
Available panel thickness [mm]
Thermal resistance value R [(m²∙K)/W]
Thermal transmittance coefficient UC [W/(m²∙K)]
Number of panels in a bundle [pcs.]
40
1,42
0,70
28
60
2,12
0,47
18
80
3,03
0,33
14
100
3,84
0,26
11
125
5,00
0,20
9
140
5,55
0,18
8
175
6,66
0,15
6
Realizations with PolTherma SOFT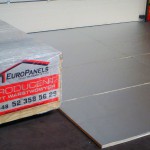 Zobacz wszystkie realizacje