PolDeck BD – roof sandwich panel PU
EuroPanels- the only producer in Poland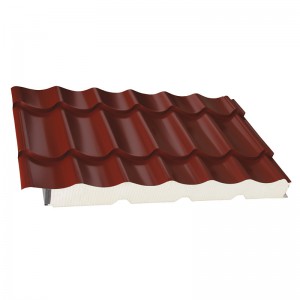 PolDeck™ BD is the newest and the most technically advanced product in EuroPanels offer.
PolDeck BD is a roof sandwich panel with attractive design of tiled profiling on outer side. Three inner trapezoidal profilings give more longitudinal strength. One of the most significant features of the panel is 100% filling of PU core, thus each end every corner of the billow is free from air. It is reflected in a great insulation properties and mechanical strength of the PolDeck™ BD. Another important feature is a quick and easy assembling method: using a specialized screw just drill it throughout the panel and save costs and time! PolDeck BD is dedicated for all of the buildings that are to have pitched roof design, like detached houses or farming.
Roof sandwich panel PolDeck BD is available in option:
AGRO – additional non-condensate layer Agro applied on inner skin PolDeck TD is suitable for agro-storages of a different kind. This special layer absorbs the humidity from the inside of building and and releases the water vapor
What are the main advantages of the PolDeck BD panel:
Great design, durability and state of the art technology
Very good thermal insulation properties
Significant savings already on assembling stage (cheap, short, fast and easy assembling) and during life span (lower energy costs)
Composite shape – the whole roof is all-in-one kind: hydro- and thermal insulation are combined into one, ready to be assembled product (no other elements needed, for example no vapor, permeable membrane or roof ventilation)
Ready to use systems of sky windows, solar installations etc.
Reduced requirements for supporting construction (simplified layout)
Before you order the PolDeck BD:
Due to profiling shape (BD stands for Billow Deck), indicating and ordering the right length of the PolDeck BD panels differs from the standard roof sandwich panels (for instance PolDeck TD).For the proper PolDeck BD measure you need to refer to tiled module base. We always cut the BD panel in a middle of the module. Each tiled module is 330mm long. So you are ordering BD panels by modules, not mm. Let's have a look at the example:
Total BD panel's length = number of modules x 330 mm.
Let's say 30 modules x 330 = panel of 9 900 mm length.
Knowing roofs span, you can also calculate this as follows:
If 7800 mm is needed / 330 mm = 23,63 so rounding up to full you have 24 modules (final length of the panel is 7920 mm).
Minimal length of the PolDeck BD: 1 980mm (6 modules)
Maximal length of the PolDeck BD: 11 880mm (36 modules)
Sandwich panel PolDeck BD - applications
Family housing
Agricultural buildings
Main data PolDeck BD
Modular width [mm]
1100

Fire resistance

RE 45 / REI 20
Core
Europan PU Roof System Core — rigid PU foam with declared density 38

±

3 kg/m

³

 and thermal conductivity coefficient λD = 0,022 W/(m∙K) at +10°C including aging, according to EN 14509:2013-12
Option
AGRO – additional non-condensate layer applied on inner skin
Technical data PolDeck BD
Available panel thickness [mm]
Thermal conductivity value λD [W/(m

∙

K)]
Thermal transmittance coefficient Ud, S [W/(m²∙K)]
Weight 1 m² [kg]
Number of panels in a bundle [pcs.]
80/105
0,022
0,39
11,0
7
100/125
0,022
0,29
11,8
6
120/145
0,022
0,23
12,6
5
Realizations with PolDeck BD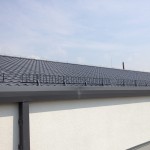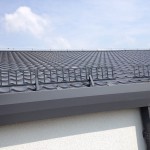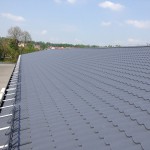 Zobacz wszystkie realizacje