ThermaBitum FR – insulation sandwich panel PU
System for hydro and thermoinsulation of flat roofs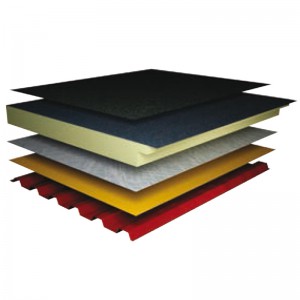 ThermaBitum FR is a product of very high fire resistance performance, ignitable while maintaining the same performance in terms of insulation. These panels may be mainly used in new facilities in which the requirements for fire resistance are high.
The current classifications for this product:
REI 30 – for the system on trapezoidal sheet
B-s3, d0– or the system on trapezoidal sheet
BROOF(t1) – in terms of the roof resistance to external fire, make them ideal in terms flat roofs with a slope of 0 – 15°.
The combination of very good insulating properties with the high, given above, fire resistance parameters, make this product an extremely modern and sought one on the market of construction materials.
Insulating panel ThermaBitum FR - applications
flat roofs with a slope of 0 – 15°
Main data ThermaBitum FR
Form
specialized thermal insulation PU panels with fire resistance class REI 30
Purpose
new and modernized flat roofs, with an angle of inclination of 0 to 150
Modular width [mm]
1025
Overall width [mm]
1050
Overall length = modular [mm]
standard: 2400 (min. 2100, max. 8000)
special: optimized to the dimensions of the roof (on request)
Longitudinal joint type
overlap of 75 mm (type B)
with underlay for welding of adjacent panel
Transverse joint type
simple, dilatation necessary for installation of 20 mm to the next panel filled with
mounting foam, ending to cover and seal with the 20 mm roofing felt underlay
Top cladding
roofing felt underlay 2.3 mm with the overlap along the panel length
The insulating core
Europan PU+ Insulation System Core – polyurethan rigid foam with a density of 33±3 kg/m3
Bottom cladding
glass fibre FR 150
Waterproofing
top felt having a thickness of 5.0 mm, with the polyester insert of 250 g/m2, SBS modified class NRO, torch surface welding cladding panels of felt underlay as a single-layer system
Required additional layers
vapor barrier (PE film min. 0.2 mm or roofing felt underlay)
glass veil of at least 120 g/m2 (between the vapor barrier and the panel)
Attaching to the base
mechanical telescopic system (sleeve + bond) over the entire surface
Resistance to fire
REI 30
Roof resistance to external fire
BROOF (t1)
Reaction to fire
B-s3, d0
Resistance to compression (at 10% deformation)
120 kPa
Reference document
compliance with the european standard PN-EN 13165+A1:2015-03
Technical data ThermaBitum FR
| Available panel thickness [mm] | Thermal transmittance coefficient U [W/(m²∙K)] | Thermal resistance value R [(m²∙K)/W] | Thermal conductivity value λD [W/(m∙K )] | Weight 1 m² [kg] | Number of panels in a bundle [pcs.] |
| --- | --- | --- | --- | --- | --- |
| 100 | 0,22 | 4,55 | 0,022 | 6,65 | 11 |
| 125 | 0,18 | 5,56 | 0,022 | 7,53 | 9 |
| 140 | 0,16 | 6,25 | 0,022 | 8,28 | 8 |
| 175 | 0,13 | 7,69 | 0,022 | 9,47 | 6 |
Realizations with ThermaBitum FR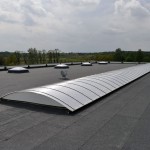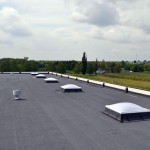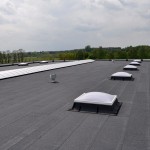 Zobacz wszystkie realizacje